Local Independent NowMD Dealers
Independent NowMD Dealers offer local, regional and national software sales, software installation, training, support and computer hardware sales and service. See the NowMD independent dealer list for more information.
All support services are fee-based. Get a training and support plan in place with a NowMD Dealer now and be prepared when you need help!
Telephone Support Services
NowMD software experts are as close as your telephone. Telephone support is offered from 7:00 a.m. until 5:00 p.m., Monday through Friday, Mountain Standard time, holidays excluded. Arizona does not observe Daylight Saving Time.
For telephone technical support call (800) 329-3209
Support Charges Starting April 1, 2021
Free telephone support for 30 days after your first call to support
Standard Support Per Incident
$99
Standard Support Monthly Subscription Payment


(Includes six (6) support calls/month. Does not include training or menu building)

$69
Standard Annual Subscription Payment
$690
Premium Support Monthly Subscription Payment


(Includes unlimited support calls/month and complimentary version upgrades. Does not include training or menu building)

$99
Premium Support Annual Subsription Payment
$990
Re-Registration of Depricated Products
$299
Emergency Support for Depricated Products
$499/hour
Training by Appointment
$99/hour
What Services are Offered with Telephone Technical Support?
Assistance with troubleshooting software problems
Information on the use of software features
Telephone technical support services do not include training on set up or use of NowMD products. Computer hardware, operating system and network questions should be referred to the support services of the providers of these components.
What's the Difference Between Training and Support?
Training is walking through a function and showing how it works. Walking through the process of how to enter a patient is an example of training. If you've already entered a patient and want to know how the copay amount for the primary insurance works, that is support.
Self-Help Options
Information to help you use NowMD is as close as the computer in front of you! Click the blue question mark in the upper right corner of the NowMD main window near the global patient search field. Here's what you'll see: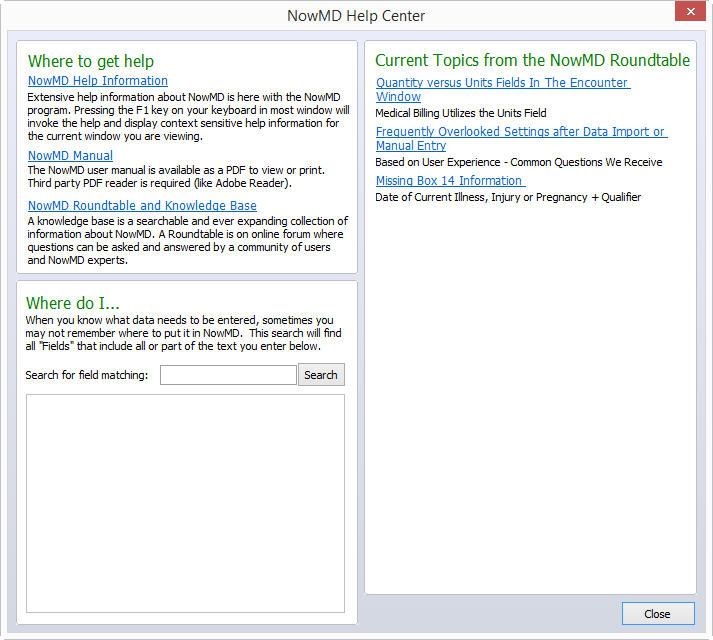 Click NowMD Help Information to display the help system. Help is also available by clicking the Help button in data entry windows or pressing the F1 key.
Click NowMD Manual to open the digital user manual. All you need is a free .pdf reader to view the manual.
Click NowMD Roundtable and Knowledge Base to access the free online NowMD web discussion forum 24 hours a day, 7 days a week.
In the Where Do I… box you can type the name of a data field you're looking for to find where that data is entered anywhere in the software.
In the Current Topics in the NowMD Roundtable box you'll see a news feed that includes current help forum topics. Click a topic to open a web browser and navigate to that topic in the discussion forum.
Network Configuration
We recommend the use of Windows 7 or above to simplify network setup. Rarely will manual network configuration be required for NowMD.
Support for network configuration and troubleshooting, internet access or email functionality is the responsibility of the network hardware vendor, internet or email provider.
Custom Report Service
Custom report design and modification services are available. Contact NowMD technical support for more information.