Full-Featured Patient Appointment Scheduling
NowMD's Patient Appointment Scheduling module offers a very inclusive list of features: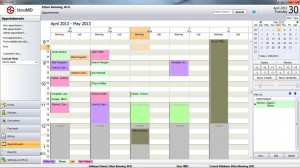 Appointment Resources
Providers, treatment and examination rooms, and even equipment can be scheduled. Provider and facility or equipment schedules appear in separate columns on the schedule display for clarity.
Appointment Guides (Appointment Templates)
Time periods can be reserved for specific types of visits to optimize practice resources and patient service.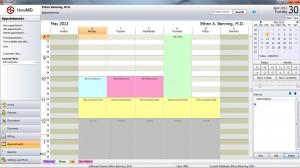 Appointment guide options let you tailor this feature for your needs:
Can be used as a simple time slot reminder for appointment types
Can be set to allow only appointments for a specific reason to be scheduled in a time slot
Can be set to not allow any appointments to be scheduled during a specific time
Can be set to repeat for specific days and times
Appointment Views
Views can be customized to fit each user's needs. See only the resources, days and times, and appointment information you want to see. Design as many views as need for your entire office. Each user can select the view they want to see for their position. Need to see another view? Views can be selected on the fly.
Wait List
Patients who need an appointment as quickly as possible can be added to the Wait List. Appointments can be moved from the schedule to the wait list to facilitate ASAP rescheduling. When a time opens just drag the appointment out of the wait list and onto the open time for the selected resource.
Follow-Up Appointment Dates
Click a shortcut button in the calendar to move weeks or months into the future to schedule a patient's next appointment. The selected time period will be displayed in the appointment view for scheduling the next visit.
Find Available Appointment Time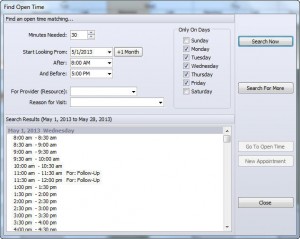 Busy practices love this feature! One mouse click lets you find an open appointment time using these conditions:
Length of appointment needed
Date range
Time range
Day of week
Provider or resource
Reason for visit (determined by template)