Electronic Transactions
NowMD supports the latest technology requirements for ANSI 5010 Professional Claims (837P) and Electronic Remittance Advice (835) transactions. Specialized electronic claim data is offered for these practice types, healthcare services and billing requirements:
Professional medical claims (fee for service)
Pregnancy – OBGYN
Anesthesia
Ambulance
Optical/Vision
Chiropractic
Medicare
Medicaid
Family planning
Physician-administered drug therapy with NDC (National Drug Code) codes
Create and View 837P Billing Files
NowMD's electronic billing files are designed for acceptance by all insurance carriers and electronic claims clearinghouses. Billing files are checked as they are created to be sure they contain data required by the ANSI 5010 specification. These basic edits can help prevent claim rejections before they are even sent!
NowMD's ANSI viewer lets you review claim file data to assist with troubleshooting. Data in ANSI loops, segments and elements along with the labels for these locations are displayed for review.
Easy-To-Use Claim Creation Wizard
NowMD's Prepare Electronic Claims wizard guides you through each step of the electronic claims creation and transmittal process.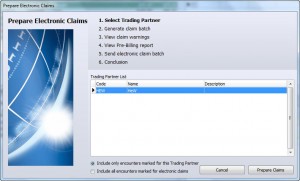 Select the EDI Trading Partner who will receive the claims
Create the claim batch
View warnings generated by missing or incorrect information in the batch (correct claim data or move on to the next step if there are no warnings)
Print or view the pre-billing report
Send the claim batch to Availity RCM, or save the batch to a file for other clearinghouses or insurance carriers
NowMD integrates with the Availity RCM Clearinghouse for claims and electronic remittance. Software to create and send claims to Availity RCM and post payments from electronic remittance files is included with NowMD at no additional charge.
Claim.MD is a leading healthcare claims EDI clearinghouse focused on enhancing the provider experience through an innovative, robust, and intuitive platform that enables swift and accurate payment of healthcare claims. Claim.MD's extensive national network reaches payers across the country and processes hundreds of millions of transactions each year. With their combination of innovative features, payer reach, easy-to-use platform, exceptional customer support services, and pricing, Claim.MD provides maximum value to its customers.
Universal 837 Claims
A Universal ANSI 5010 837P module is available for use in creating claim files for other receivers. Claim files are created to exact ANSI 5010 requirements for use with other clearinghouses and for submission directly to insurance carriers.
Universal 835 Remittance Advice Posting
NowMD can automatically post payments and adjustments for electronic claims sent through the Availity RCM, or Universal 837 claims modules.