Billing Center
NowMD's Billing Center is the best collection tool imaginable. Because every encounter with an outstanding balance is displayed, billing can't fall through the cracks. Color coded follow-up flags tell the biller which claims need attention.
Specific Responsibility
Every encounter has only one responsible payer at a time. As an encounter is billed and paid, responsibility moves from the first insurance to the second insurance then to the third insurance followed by the guarantor. Encounters appear on aging reports only for the current responsible party.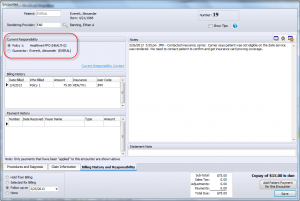 Statement Collection Messages
Guarantor statements display a user-defined message tied to the account's oldest balance. As the balance ages the message can become more direct, urging prompt payment.
News Feed
NowMD's unique News Feed gives providers, office managers and billers a quick look at key financial information including past-due follow-up reminders, unbilled claims, aged accounts receivable balances and more. Select the information to show in the News Feed and control which users can see it with system security settings. The News Feed appears in the Home Center and is updated with real-time information as the software is used.
[lightbox style="modern" image_path="https://www.nowmd.com/wp-content/uploads/newsfeed.jpg" popup="https://www.nowmd.com/wp-content/uploads/newsfeed.jpg" link_to_page="" target="" description="" size="portrait_thumb"]
Rebilling
Insurance claims and statements can be rebilled with one mouse click to select the encounter for billing. The next billing batch will rebill the encounter.